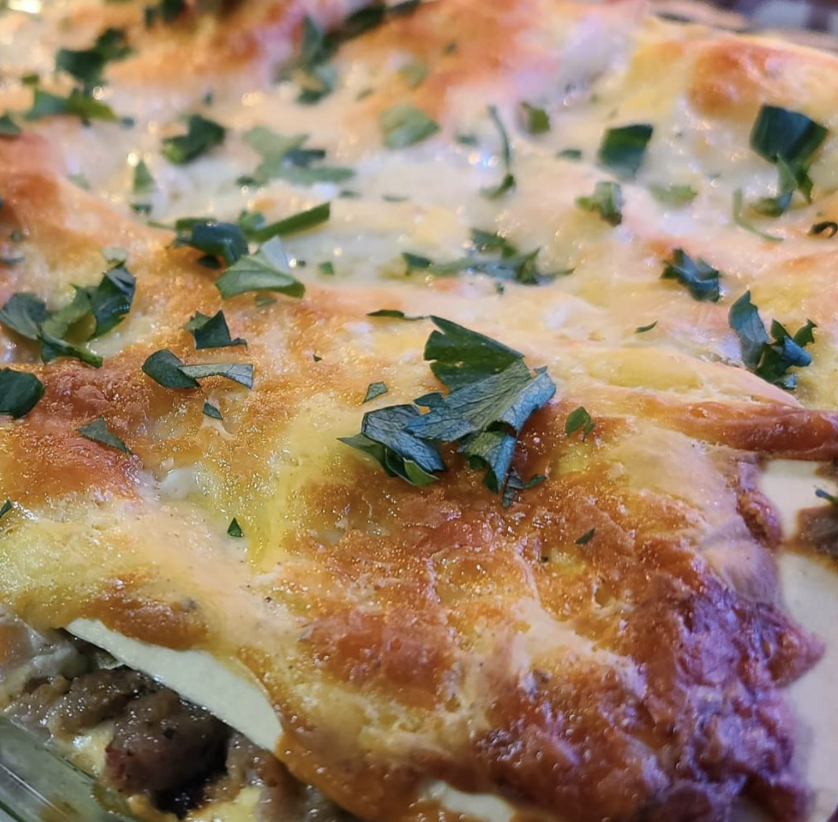 Pumpkin & Sausage Lasagna
Pumpkin Sauce (Make Ahead)
2 C Pureed Pumpkin
4 T Butter
6 T Flour
4 C Milk
1 pinch Sea Salt
1 T Pumpkin Pie Spice
Lasagna
15 no-boil lasagna noodles
2 lbs Ground Sweet Sausage
3 C Swiss Chard
3 C Kale
4 medium cloves Garlic (minced)
1 medium Yellow Onion (finely chopped)
1 Duck Egg (or 2 chicken eggs)
16 oz Ricotta
8 oz Mozzarella
4 oz Atwell's Gold (or Parmesan)
1 T fresh Parsley (finely chopped)
1 T Italian Seasoning
Make ahead: Pumpkin Sauce
Melt the butter in a medium saucepan over medium heat, then mix in the flour. Stir about 2 minutes.
Increase to medium high heat, and add milk while whisking quickly, approximately 1C at a time. Simmer 2-3 minutes once all milk has been added, whisking occasionally.
Stir in the pumpkin, pumpkin spice, and sea salt. Simmer until sauce is thick enough to coat the back of a spoon.
Lasagna
Set out your ingredients.
Preheat oven to 375.
In a large cast iron skillet, heat olive oil over medium heat. Add sausage, and brown.
Add onion and garlic, and cook 3-4 minutes until aromatic.
Add chard and kale, and cook until wilted.
In a mixing bowl, mix ricotta, eggs, and Italian spice.
To assemble the lasagna: Add 1 cup of pumpkin sauce to the bottom of a 9×13 baking pan. Cover with 4-5 lasagna noodles.
Spread 1/2 the ricotta mixture over noodles. Add 1/2 of sausage mixture on top of the ricotta. Cover with 1 cup mozzarella cheese. Pour 1 cup pumpkin sauce over the mozzarella.
Add another layer of noodles, remaining ricotta, sausage mixture, and mozzarella. Top with last layer of noodles. Pour remaining pumpkin sauce over the top layer of noodles. Sprinkle with Atwells Gold cheese over top.
Bake for 45-50 minutes, or until the top is golden brown. Top with parsley as garnish.