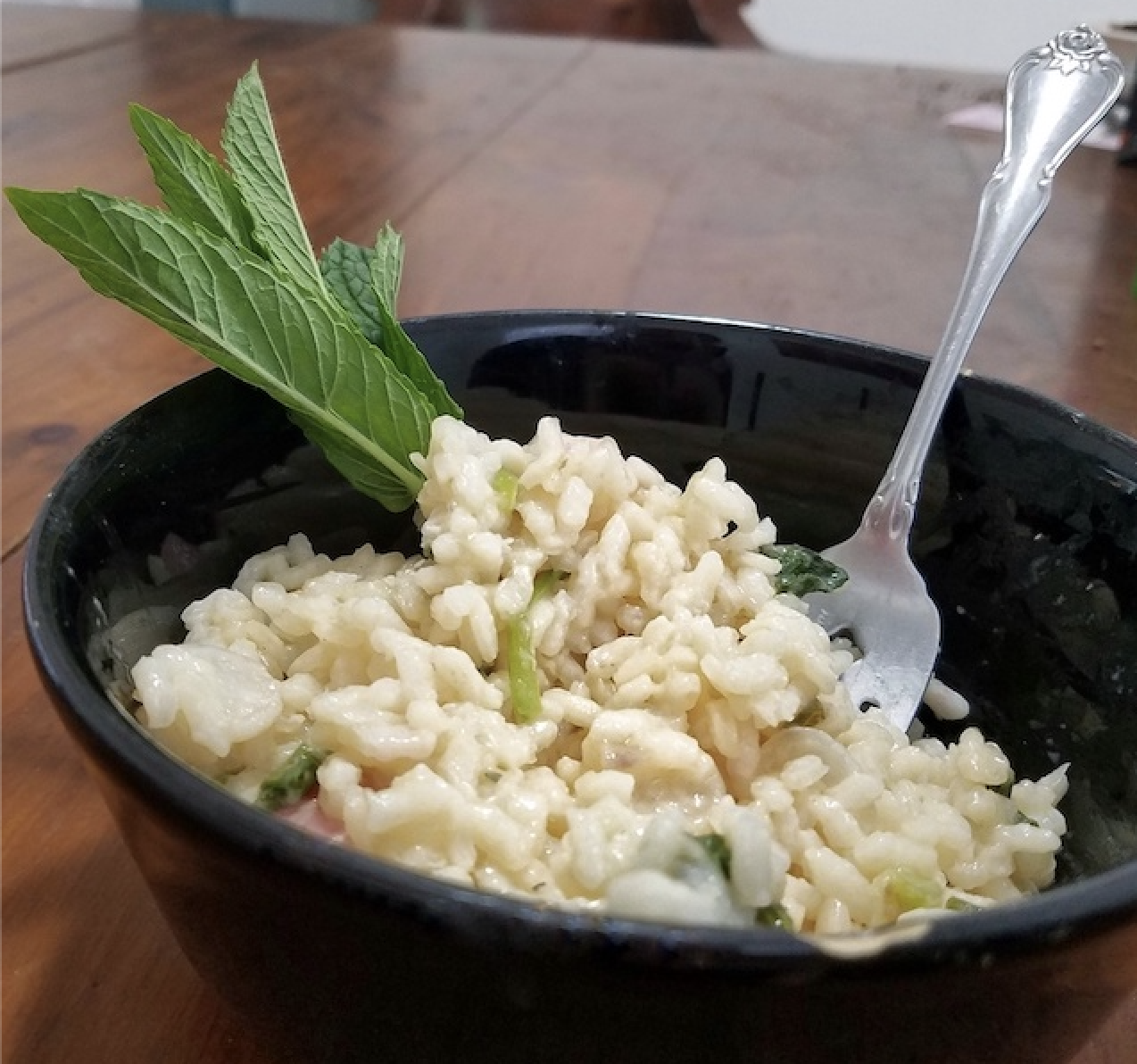 Radish Risotto
12 French Breakfast Radishes (chopped)
1 C Radish Greens (roughly chopped)
6 C Chicken Stock
1 C White Wine
2 C Arborio Rice
1/2 C Parmesan cheese (grated)
3 shallots (diced)
1 clove garlic (minced (about 3/4T))
5 T butter ((or olive oil))
1 dash Lemon Pepper (optional)
Fresh Mint (to garnish)
Prepare ingredients and set out so you will not need to step away from the risotto while it cooks.

In a large saucepan, heat the chicken stock to medium temperature. Do not remove from heat during cooking process.

In a large pan over medium heat, melt 3T butter and add the shallots and garlic. Cook until soft and aromatic, approximately 5 minutes.
Add radishes and cook for approximately 2 minutes.
Add rice, stir to combine ensuring rice is coated with butter. Cook for approximately 2 minutes.

Turn the heat on the pan to medium-high, add the wine, and cook, stirring constantly, until the wine is absorbed.

Add one soup ladle of stock from the saucepan to the pan at a time, stirring constantly until absorbed.

Along with the final ladle of stock, add the radish greens. After absorbing this final ladle, the rice should be tender, but still have a crisp exterior. This takes 20-25 minutes.

Remove pan from heat, and stir in parmesan cheese, remaining butter, and 1 dash of lemon pepper.

Serve, adding a few fresh mint leaves on top for garnish.

Some quick additional tips for making great risotto:
Have patience! When you are adding each ladle of broth, it's important to make sure the previous ladle has fully absorbed.
Use tools that work for you. I really like using a pasta spoon for all this mixing!
Remove the risotto completely from heat before adding final ingredients, particularly cheeses.
Meghan Buckley is the co-founder of Stargazer Hollow, and is the business end of the farm.
Meghan handles the website and marketing, accounting, farmers markets, conference planning, and all the other little admin overhead that a farm needs.
She also loves getting her hands dirty, and helps with duck care, vegetable harvesting, and lots of cooking and canning!